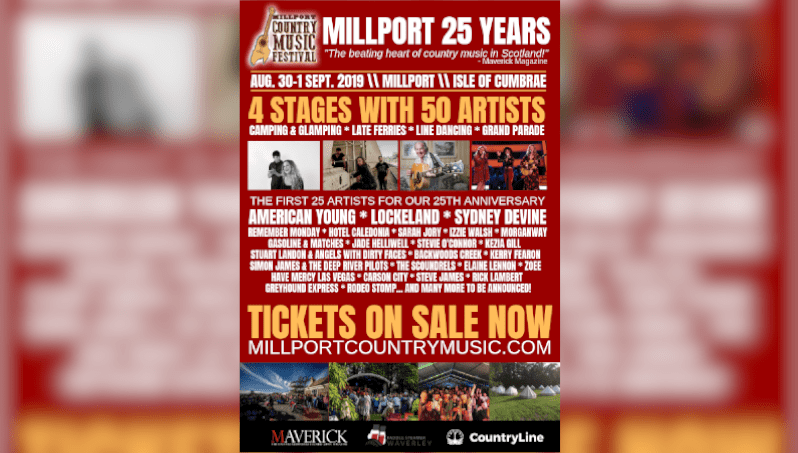 Millport Country Music Festival reveals first 2019 line-up announcement
15 April 2019 news
---
The first wave of artists have been announced for the 25th edition of Millport Country Music Festival, with American Young, Lockeland and Sydney Devine scheduled to perform at the festival, which takes place between August 30-September 1.
In addition, Remember Monday, Morganway and Jade Helliwell have been revealed in the first Millport announcement, which has unveiled 25 of the 50 acts that have been booked.
Some of the other 25 included Sarah Jory, Hotel Caledonia – an Eagles tribute band from Scotland – and Izzie Walsh, while Keep It Country presenter Kerry Fearon and Maverick's 2018 Emerging Talent Showcase winner Zoee were also announced.
Something new for this year is the inclusion of PS Waverley, who has timetabled a Millport Country Music Festival Cruise on September 1 this year, leaving Glasgow in the morning, stopping at Greenock and arriving at Keppel Pier in Millport for the festival, before returning back to Greenock and Glasgow early evening.
The Saturday headliner is as of yet TBA, but Tier 1 and Early Bird tickets are already close to capacity. Tickets can be purchased here.
The list of artists announced for Millport Country Music Festival 2019 are:
American Young
Lockeland
Sydney Devine
Remember Monday
Hotel Caledonia
Sarah Jory
Izzie Walsh
Morganway
Gasoline & Matches
Jade Helliwell
Stevie O'Connor
Kezia Gill
Stuart Landon & Angels with Dirty Faces
Backwoods Creek
Kerry Fearon
Simon James & The Deep River Pilots
The Scoundrels
Elaine Lennon
Zoee
Have Mercy Las Vegas
Carson City
Steve James
Rick Lambert
Greyhound Express
Rodeo Stomp
---