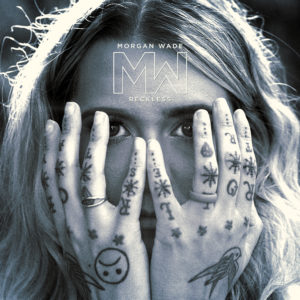 Morgan Wade releases her debut ten track album tomorrow (March 19th). Wade, now 26, kept her songs and her voice hidden in her younger years, later taking to the stage naturally at age 19, and then choosing sobriety soon after in her early twenties. The album, she notes, is an honest portrayal of her truth, grit and growth.
Working alongside Paul Ebersold and Sadler Vaden, long-time guitarist for Jason Isbell as well as an acclaimed solo artist in his own right, the trio shaped songs Wade has written over the years and developed new tracks to create a debut that speaks Morgan Wade's truth and shines a light on the difficult issues affecting society today.
Wade notes influences that span bluegrass, country and pop, with her sensibilities of the latter on full display in "Last Cigarette." Reckless was announced with the release of critically acclaimed opening track "Wilder Days," landing on Rolling Stone's "Country Music Picks of the Week" where it earned praise as a "polished country-rock gem."
"Wilder Days," as well as additional early releases "Don't Cry" and "Take Me Away," quickly earned placement on over 30 prominent playlists, including the cover of Spotify's coveted Indigo playlist and Apple Music's Country Risers of the Week, and have since garnered over 1 million streams.
Playing the full collection of heartfelt music to fans in a live setting for the first time, Wade performs a stripped-back version of Reckless tonight, March 18, in two sold-out limited capacity audiences at Nashville's 3rd and Lindsley – livestreaming across the country to celebrate the album's long-awaited release at 8 p.m. CT. Livestream tickets are available HERE.
For more information, follow Wade on Instagram @MorganWadeMusic, Twitter @TheMorganWade and Facebook.com/MorganWadeMusic.
Reckless Track List:
1. Wilder Days
2. Matches and Metaphors
3. Other Side
4. Don't Cry
5. Mend
6. Last Cigarette
7. Take Me Away
8. Reckless
9. Northern Air
10. Met You
Watch Livestream from 3rd and Lindsley HERE Tonight @ 8 p.m. CT/ 1 a.m. GMT

To stay up to date on the latest country music news, please register to receive our newsletter here.
Media contact
Zoe Hodges,
Editor, Maverick Magazine
Tel: +44 (0) 1622 823920
Email: editor@maverick-country.com