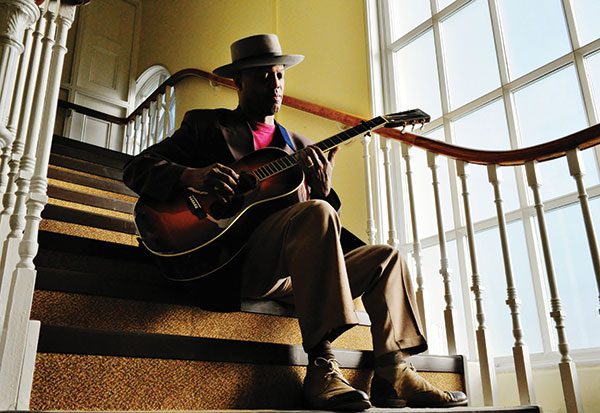 New Interview- Keeper of the flame- Eric Bibb: the happiest man in the world?
1 September 2016 Features Interviews
---
Eric Bibb's music is classy and consistent. His style uplifting, inspiring and there's always a spiritual aspect. Almost gospel, but without the preaching! His new album, THE HAPPIEST MAN IN THE WORLD is all of this and more.
Recorded in the Norfolk countryside with old friends, North Country Far and famed bassist Danny Thompson. 15 songs, 11 written or co-written by Eric and one traditional song arranged by him.Thrilled with the result, Eric believes it is an album that will be with us for a while. "People will come back to that record years from now."
Eric has toured with Danny Thompson in Australia and they have played radio sessions, but this is their first album together. Danny's an original member of legendary folk group Pentangle and has played with John Martyn and Donovan.
Recorded at Dave and Sue Williams', The Grange Studios in Norfolk, where Eric cut his acclaimed album HOME TO ME in 2000.
"There is an immediacy, an intimacy….it will appeal to anyone into the kind of roots acoustic music I am known for. This is where I made my mark in this kind of genre.Bluesy, countryish, rootsy stuff played on acoustic. It'll always be that way, my heart drawing me back to this style even when I try other things. It's my home zone."
"Even if I veer off into other directions, I try to keep that pretty central somehow. My style and sound was never consciously designed. I tend to gravitate towards certain music, a style of playing and sensibility over the years which has gelled into some of kind of brand."
Eric hits the milestone of 65-years old in August. He's travelled the globe, performed just about everywhere, collaborated with many big names, released 36+ solo albums – his debut was AIN'T IT GRAND in 1972 – and many collaborations on record and on stage. So what about the "R" word?
"Retirement is not really in my thoughts. Even if I won the lottery, I'd still do concerts, but probably not at the pace I am doing it. In 2017 I'd like to take a little bit more time off the road to gather my wits about me and figure out my priorities. I'll do dates here and there, but not so much extended tours, to take a bit of a break."
Speaking to me in his dressing room at Birmingham Town Hall in the afternoon of a wonderful sold out show on his recent UK tour, he says it feels different doing what he does today, as it did when he first started. "I remember being more conscious of wanting to make a mark, wanting to get on the map, to be written about. That has happened on its own, and I am no longer chasing recognition. That's the big difference."
"I am really gratified I have that place in people's minds and hearts, somebody they really enjoy and follow. No longer striving in the way I was. Relaxed more about it. It's not about making a name for myself, but more about satisfying myself and my fans' expectation."
He starts recording a new album in August with Michael Jerome Brown, "a wonderful roots guitarist," and Jean Jacques (JJ) Milteau on a stripped back acoustic album, without drums. "Sort of like Sonny Terry and Brownie McGhee with an extra guitar player. Going back to that country blues that has been at the foundation of what I have been doing." Aiming for a spring 2017 release.
As one of the few artists to keep traditional blues, country blues and real American folk music alive, is it harder to reach new audiences, especially younger people?
"There's an increased interest in Americana, in blues, picking up with younger bands. A lot of younger players, in their 20s, are starting to discover who I am; a lot of that through YouTube. I have managed to stay current without changing direction."
Eric has championed the music of Lead Belly and Bukka White (aka Booker T. Washington and Booker White), among other blues and roots pioneers. He released Booker's Guitar, in January 2010, playing the Delta master's original guitar on the album. Last year he released ERIC BIBB & JJ MILTEAU: LEAD BELLY'S GOLD, and gave a show stopping performance at Lead Belly Fest at the Royal Albert Hall in London.
"Both artists I was aware of early in my journey. Lead Belly was there from the very first. I heard covers of his songs before I heard him. He died two years before I was born. People who my family knew, had met Lead Belly, inc Pete Seeger who I met."
"Bukka White; someone in Newcastle in the UK inherited his guitar, as he was a friend of Bukka's. In gratitude for the support he had given him through the years, before he died he shipped his guitar to UK as a gift. He has been guardian and caretaker of that wonderful Duolin guitar for years.It may end up in a museum. I still have access to it if I want to record with it. Holding the man's guitar; it was an amazing gift to me, sealing my link to these other generational guys who I admire."
"I grew up in New York City, in the suburbs then Manhattan, in an upper middle class family who took me to Europe at 12. Mine was a whole different experience to Bukka White, but none the less that music hit me hard as a teenager.My link to that music has only got stronger through the years, which tells me it's a kind of destiny thing and this is what I am supposed to be doing."
"I can imagine somehow the spirit of these ladies and gentlemen who I have admired from an earlier time, would be somehow aware I am gratifying the enduring popularity of their music and happy a guy like me chose to carry their flag. Not only by playing their songs, but by writing new material in the spirit of their music, and that's important."
"I think the blues and particularly lovers of the older stuff; we need to create material that can stand next to the older recordings. I am not saying to be as masterful as Robert Johnson and Charlie Patton; they were from a certain time, their influences made them the masters that they were. We've had other influences and other experiences, but still we need to write material that is going to be authentic, as their music was authentic."
"It's possible, but it's a struggle because the imagery that we've become so fascinated with and so attached to; that has to do with that agrarian Southern life, that's not really most of our experiences.Most of us who play this music have not grown up behind a mule, hanging out in Juke joints or on a plantation in the Delta; but still that music just grabbed us."
"We have to find a way to make it our own without going too far….I said to someone recently, I am not going to be singing about my laptop in my songs, not gonna be singing about iPhones and the internet! That's not where my heart is."
Is Eric part music historian? Keeper of the flame? "That is a very good point. For me it's natural, same thing as having a spiritual bent. I love reading to inform me of my history and history of the whole human tribe. Songs are a wonderful way to refer to history in a way that peaks people's curiosity. The key to a better world is we really have to know how we got to where we are, by studying history…"
Is the blues healthy or at risk? "Both. It's at risk largely because in a commercial context it has been turned into a cartoon. Such a strong identifiable sound, even if you play it poorly and ignore its incredible history, you are still gonna get something that is attractive to some people."
"There's big business involved in blues, it has always been business. On one level that caricature quality to blues with all the clichés; that is discouraging. Parallel to that trend is the fact there are young people seriously curious about the real deal. They have access to books, recordings and films, and if you want to you can dive deep into this well. Definitely some people are doing that."
"There is always going to be hope as long as we remember to look at the people who created this music and the people as humans, not just caricature. Not just some share cropping person who talked in a way that sounds hip, but you have no idea what they've been through. You need to know where these people got whatever they put into their music."
"How did they get to that place? A lot of it has to do with the incredibly traumatic history of African Americans, and slavery. It is important to start there and not this truncated version. The Hollywooded-up, cartoon, disrespectful take on something so rich to both of those genres that are highly connected.It's about the people who made this music and I think if you start there; the people and their history, you can find great inspiration, take it further and take it somewhere else."
Eric's father Leon Bibb was a celebrated music theatre star and part of the happening 1960s New York folk scene. His uncle John Lewis an important jazz star. Eric and his twin sister's Godfather was singer, actor and civil rights activist Paul Robeson. Often a house full of famous folk at the Bibb place, such as young Robert Zimmerman…
"My Dad had a showbiz party in 1962 when we lived in a big house in Queens, New York. I was talking to Peter Yarrow from Peter, Paul and Mary. Then I went up to bed, but I heard a commotion about midnight. I came down in my pyjamas and robe, I was 11 years old, and there he was; looking like the cover of 'FREEWHEELIN', (The 1963 Freewheelin' Bob Dylan LP)and I thought, 'that's THE guy…..'.Everybody was calling him all kinds of things; Bob, Bobby darling…. Bob Dylan was definitely the hot ticket on the scene, and he showed up. He ended up spending a lot of time in the kitchen talking to my mother; talking about Mahalia Jackson and Mavis Staples."
"I think he was already weary of the hype and maybe his management was really putting a lot of pressure on him. He was happy to be a little out of the way, and talk to a sympathetic woman who knew that a young guy, even if he looked like he could handle it all, was probably under more pressure than was good for him."
"I went up to him and said, 'hey man, I play guitar, and I like your songs.' He said something I will never forget; 'Yeah man, keep it simple, forget all that fancy stuff.'"
"That was the message, and I think he was referring to all that slick, gentrified folk music that was hitting the airwaves with a sound that was too far away from his roots. It wasn't Guthrie sounding, it was pretty slick; hit records on major labels, all very arranged." Dylan's wee dig at Donovan's commercial appeal perhaps?
Eric has lived in Sweden for the last four years, and fell in love with Europe at the age of 12, when the Bibb family took a boat trip, landed at Southampton, and spent a month of that summer touring England, France and Italy before a flight from Vienna to Moscow. Mr Bibb senior had a 30-date tour of the Soviet Union as a guest of the Soviet State.
That was in 1964, and Eric recalls spending his 13th birthday in Kiev. On the way back from the Soviet Union, they spent three days in Stockholm before going back to New York. "It left a favourable impression." At 19, he spent a year in Paris learning blues guitar with mentor Mickey Baker and then moved to Stockholm, where he lived for a decade. Back to New York for five years, returning to Sweden for a job as a staff songwriter for BMG, who sent him to New York to co-write with other songwriters.
On one trip he met a co-writer who had heard about a new label (Code Blue) opening in the UK. So he sent their song demos to label boss Mike Vernon, who called Eric and arranged to fly over to see him perform in Stockholm. He brought music manager Alan Robinson with him, they liked what they heard and booked Eric to appear at the London Blues Festival at Blackheath Concert Halls in 1996 – I was there! – before Mike produced Eric's next album.
Not long after that he moved to England – Kingston and then Salisbury – for four years. He joined forces with his then manager Alan Robinson to form Manhaton Records, a label still run by Alan.
Eric released A FAMILY AFFAIR in 2002, an album with his father Leon Bibb. This was followed by FRIENDS-15 tracks featuring Bibb and friends/musicians he had met on his travels such as Taj Mahal, Odetta, Charlie Musselwhite, Guy Davis, Mamadou Diabate and Djelimady Toukara.
He has received Grammy nominations and been nominated/ won many other music awards. Eric appears on the Jools Holland & His Rhythm & Blues Orchestra CD: JOOLS HOLLAND'S BIG BAND RYTHM & BLUES (2001).
At the end of the 90s he moved back to Sweden. Now married to a Swedish woman, he has six children. Daughter Yana, a talented singer-songwriter opened for her Dad on his recent UK tour, and lives in Zurich.He has performed for Nelson Mandela and for President Obama at the Whitehouse, plays an average of 150 shows a year, and has toured in circa 25 countries. Best moment of his career? Recording with Pops and Mavis Staples.
A humble, quiet and gentle guy, Eric is quick to throw back a one word answer when asked to sum himself up as an artist, and then as a person: "Blessed." Just how his fans feel, perhaps?
By Simon Redley
---