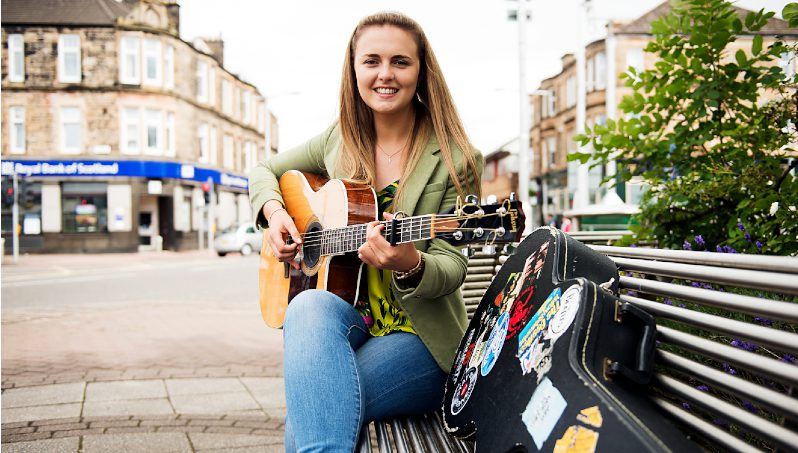 One on one with Katee Kross
22 August 2018 Featured Interviews news
---
Katee Kross is a 21 year old singer-songwriter from Bishopbriggs, near Glasgow. She is the presenter of the online show #HereandNow on Broadcasting Scotland, has two self-funded albums to her name with a third very on the way, has opened for Seasick Steve at Kelvingrove Bandstand and Wembley, and played C2C Glasgow back in March. Scott Watson spoke to the talented artist ahead of her performance at Millport Country Music Festival.
2018 started off pretty big for yourself taking C2C Glasgow at the Hydro by storm, followed by a headline gig at King Tuts Wah Wah Hut.
It has been an amazing year for me so far. But it all started with a brilliant opportunity last year when Seasick Steve asked me to support him at Kelvingrove Bandstand Glasgow, which was a phenomenal gig.
I absolutely loved playing C2C Glasgow. The response I got from everyone who attended the gig was outstanding, and a bit overwhelming. The acoustic stage had a capacity of 100, and there was 120 people in the room and a line of 40 outside the room looking through the window, with a queue out the door and around the corner.
From that our headliner gig at King Tuts came about, and it was out of this world. It was my first headliner at King Tuts and to top it off, it was on a Saturday night which is unusual for unsigned 'smaller' acts to get.
…and it didn't stop there. You've had a busy year with regards to live shows and in particular festivals.
It has been super busy so far and we have had a great time playing all the different festivals throughout Scotland, getting to meet a whole load of lovely people.
Ross and I are very fortunate to be going up to The Perthshire Amber Festival in November, where we will be running the open mic stage (a huge honour).
We will be sharing the stage with loads of Scotland finest musicians, and of course I can't wait to play my first ever Millport Country Music Festival it's going to be fantastic.
You are appearing throughout the weekend at Millport Country Music Festival in September, both on the Cactus Jack's and Maverick Acoustic Stage. What can the Millport audience expect to hear from you and The Amberjax?
The Millport fans can expect to hear some never heard /played live before songs off of our brand new album 'Body & Soul', some tracks off of 'Don't Fade to Grey', and some classic country covers. It'll be so much fun.
You are also the host of the Millport Emerging Talent Showcase that weekend, presented by Maverick Magazine. Are you excited about the emerging talent that has been announced?
I am very honoured to be hosting the emerging talent showcase. It's the first time the team in Millport have run this event during the festival, and I love all of the artists that have been picked – they are all fantastically talented!
I'm glad I'm not the one that's making the decision who wins the opportunity to play at Nashfield before the Sunday headliner and  the recording session with Black Room Sessions, because it'll be a hard one.
You seem to be quite heavily involved with mentoring, tutoring and guiding young artists. Is there any advice you would give to young talent hoping to do what you are doing? 
I love to help out other musicians. It's a much more caring, friendlier world if we all just give each other a hand.
The advice I would give, is love what you're doing, work hard and enjoy yourself. It's going to be hard with a lot of knock backs, but as long as you can say you honestly love what you're doing, then keep going.
Later this year you will be releasing your third self funded album, 'Body & Soul'. What can we expect from it?
Everyone can expect a fantastic album, even if I say so myself. We have worked so hard on this one, and I am bursting with pride at how it has turned out.
There's a lot more maturity with the songwriting, and even during the process of it all, I myself have grown a lot.
I would describe it as a classic Americana pop album, and I can't wait for everyone to hear it.
When will the album be launched and will there be a party?
The launch on the 13th of October will be held in Nice N Sleazy in Glasgow.
There will be special guests in Mick Hargan and the brilliant Tommy McGuire, who are both playing a set each.
Tickets are on sale just now! There's ticket links on our social media pages so go grab a few. It'll be a night full of laughs and brilliant music! You don't want to miss it.
Album launch and Millport aside, what's the plans for the rest of the year?
Once we get Millport and the album launch out of the way, I think we have about a 30 second breather before we support Sandy Thom at Oran Mor Glasgow, and then on to The Perthshire Amber Festival, and start writing for album four! Who knows,  perhaps even look towards a tour for 2019.
See Katee Kross and The Amberjax throughout the weekend of 7-9th September at Millport Country Music Festival 2018
---