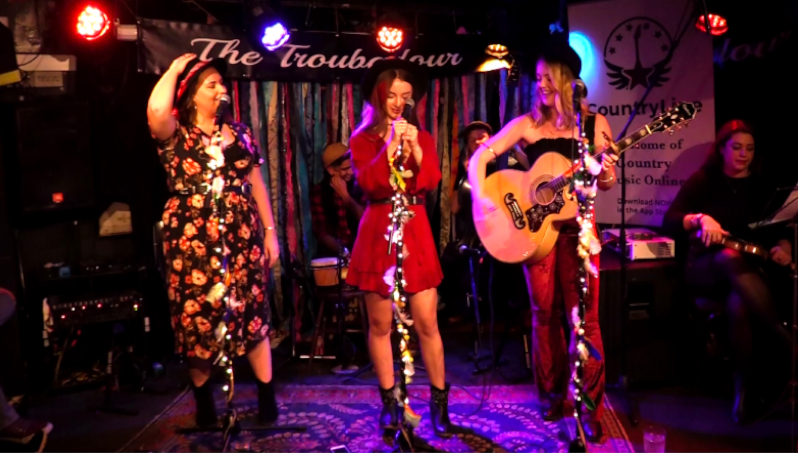 Remember Monday launch new single 'Drive' at CountryLine event
23 October 2018 Live Reviews news
---
Up and coming all-female trio Remember Monday marked the launch of their new single Drive with a huge bang on 21 October, with a spellbinding performance well beyond their years.
The gig at the Troubadour in London, England, was hosted by new specialist country music and Americana app CountryLine, and the tiny venue was rammed full of people eager to see the trio in action.
Kicking off proceedings was Jess Thristan, who pretty much had the audience eating out of her hands within the first 30 seconds of her set – an amazing feat for any artist on a bill – while Tally Spear overcame a few technical difficulties to deliver a rousing show.
Remember Monday then took to the stage, and as soon as Your Kinda Love got started, it became very clear as to why the group – formerly known as Houston – have so much hype around them at this moment in time, as the trio set about making the night their own.
Racing through a number of songs that showcased the band's versatility – from being able to completely nail covers, to a number of upbeat tracks, to emotion evoking efforts – it seemed as if there was nothing that Holly-Anne Hull, Lauren Byrne and Charlotte Steele couldn't do together, especially with their superb harmonies.
The real lump in the throat moment of the night came when the group performed Dear Debbie – a song that was written by Hull's grandparent for her mum when she moved away, and was so emotionally charging that guitarist Byrne had to step in and take control of talking duties before the track started.
The song was played beautifully and was arguably the best received track of the evening, and the group recomposed themselves to play a few more songs before closing the set on Drive, which brought the house down.
Remember Monday played:
Your Kinda Love
Make Me Fall
What He Sees
Cowboy Take Me Away (Dixie Chicks cover)
Pretty Good Heart
Daddy's Lessons (Beyoncé cover)
Home To Me
I See Fire (Ed Sheeran cover)
Fake
Pretty Bird (Hazel Dickens cover)
Free Fallin' (Tom Petty cover)
Dear Debbie
Benefit of the Doubt
Jailbreaker
Drive
---