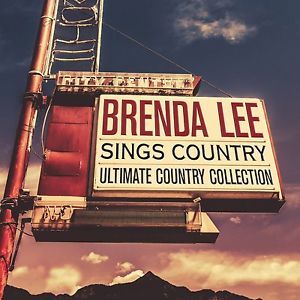 Review: Brenda Lee SINGS COUNTRY, ULTIMATE COUNTRY COLLECTION
7 October 2016 CD Reviews
---
Brenda Lee
SINGS COUNTRY, ULTIMATE COUNTRY COLLECTION
Humphead Hump
2 stars
Who knew?
This is indeed the very same Brenda Lee, the saccharine rock'n'roller of Let's jump the broomstick and Rockin' around the Christmas tree fame, and the tale of what she did next. If you are like me you thought that once she stopped being famous she just went home and lived on the royalties that accrued each Christmas, how wrong could I be.
This double album of fifty songs is the proof of what Brenda did next and, probably, sounds the way you imagine mainstream Nashville to sound between the years of 1961 and 1985, the span covered by these albums. I'm also sure that the astute among you are beginning to get the feeling that I am not excited by this at all, and you would be right.
Despite songs by such luminaries as Shel Silverstein, Kris Kristofferson, Mickey Newbury, and Willie Nelson nothing comes close to catching fire, and the impression given is that their best songs went to other people. But throughout Brenda's voice holds up well yet, on occasion, cannot lift the second rate songs above the grasp of the ubiquitous Nashville sound, whose strings don't come anywhere near close to the sincerity of banjo and mandolin. This really isn't what I started listening to country music for, and my apologies to all concerned.
Ian Ambrose
humpheadcountry.com
---
Editor album review, brenda lee, review, ultimate country collection