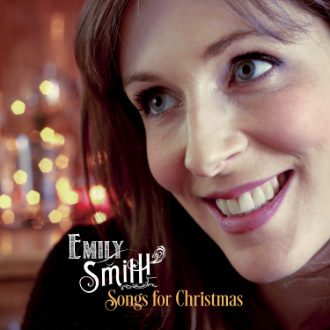 Review: Emily Smith SONGS FOR CHRISTMAS
9 December 2016 CD Reviews news
---
Emily Smith
SONGS FOR CHRISTMAS
White Fall Records WFRCD015
****
Thankfully devoid of bells and ho ho ho's. A Christmas album with a heart of gold.
Mention Christmas music and most folk will think of traditional carols or those pop hits crammed onto a CD and invariably called "The Best Christmas Hits Ever. Vol. 97." However the discerning listener can find a rich vein of roots music that is tied into the festive season. Indeed the late Bert Jansch will probably be heard in many households around the 25th December due to the inclusion of his rendition of "In The Bleak Midwinter" on many of those compilation discs even though it died a death when originally released. So for those inclined to have a festive listen without too many sleigh bells award winning Scots singer Emily Smith offers this fine collection of songs, some traditional, many new.
Smith is one of the rising stars of traditional Scots folk music and on Songs For Christmas she sings wonderfully with a fine band behind her, the songs firmly in a folk setting, accordion and fiddle well to the fore over briskly strummed guitars and fleet footed percussion. The arrangements on staples such as Silent Night and God Rest Ye Merry Gentlemen are just sublime and perfect for listening to with a late night mulled wine. Elsewhere there is the flowing folk rock of The Blessing Of Mary  and  Christ Has My Heart, Ay which dip into Scots and American traditional music (both of which would bear listening to at any time of the year). There's wintry balladry on the gorgeous Winter Song which is redolent of frost and bare trees while Heard From Heaven Today has a woody timbre courtesy of accordion and viola as the simple repeated words implant the Christmas story wonderfully.
There's some jollity on the calypso like Little Road To Bethlehem, a late night lullaby on the cover of Mindy Smith's Santa Will Find You and a nod towards the New Year with Smith's fine version of The Parting Glass, a reflective moment that allows her voice free rein over an immaculate arrangement. Smith tops and tails the album with two songs that capture her vision of Christmas. Find Hope is a song that does capture the non commercial side of Christmas (you remember, the chap in the stable and all) and it warms the cockles of the heart with its message of hope and optimism.  Her cover of Sarah Siskind's A Life That's Good closes the album and again it's a moment of reflection and thanks.
Paul Kerr
www.emilysmith.org
---