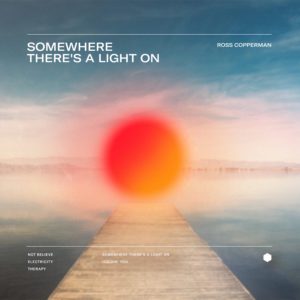 With a staggering 29 No. 1 records along with award nominations and wins for his work behind the scenes, Ross Copperman is widely recognized for his work as a producer and the writer of career-defining gems for other artists from Kenny Chesney and P!nk to Blake Shelton and Gwen Stefani, yet his professional story began with his own record deal in the UK in 2006 and makes a full return to those roots this May. With "Electricity" and "Somewhere There's a Light On," available now, this new music marks the first two-of-five from Copperman's forthcoming EP, Somewhere There's a Light On, set for release on Photo Finish Records on May 21.  Listen to "Electricity" and "Somewhere There's a Light on" HERE.
Signed initially as an artist to the UK's Phonogenic Records/RCA in early 2000s, Copperman found himself touring, landing syncs on popular shows and earning success for two releases out of the gate, yet something wasn't right. He walked away. Relocating in Nashville, drawn to the city's songwriting tradition and relative proximity to Roanoke, Virginia, where he grew up playing the piano, Copperman became a student of songwriting, increasingly respected not just for hits, but for his relentless work ethic and kindness. He also fell in love and got married, and then became a father to three––all while building one of the most impressive behind-the-scenes resumes in music.
Now, after helping launch careers for some of country music's biggest stars with songs that have become fan-favorites and staples in their catalogs, the man behind a decade of sound for Music City is coming full circle with a new release as an artist himself.
Hope, joy and gratitude pulse throughout the collection of Copperman's shimmery Southern pop. Featuring back-to-back singalongs and Copperman's ferocious musicality, the EP is radio-ready piano, staccato percussion, synths, snaps and smooth vocals, with country music's love of cohesive narratives.
"I've always liked to write songs to live in any world and not necessarily be too specific to genres," Copperman says. "It feels like pop has really been influenced by country writing in the last few years."
Copperman co-wrote Somewhere There's a Light On with favorite collaborators, including a pair with Ed Sheeran. "I've never loved two songs more than 'Electricity' and 'Therapy' in my life," Copperman shares of the EP tracks he wrote with Sheeran. "We were pitching them to country artists, and I had this realization: 'Wow. I think these might be my songs.'
"Finding love, becoming a dad, helping other artists find their voice…all of this life I've lived has informed my new music. Without those experiences, I'm not sure we'd be here at this moment with these songs."
Pre-order for Somewhere There's a Light On available now!
1.     "Not Believe" (Ross Copperman, Jordan Reynolds, Emily Weisband)
2.     "Electricity" (Ross Copperman, Ed Sheeran, Johnny McDaid)
3.     "Therapy" (Ross Copperman, Ed Sheeran, Johnny McDaid)
4.     "Somewhere There's a Light On" (Ross Copperman, Shane McAnally, Josh Osborne)
5.     "Holdin' You" (Ross Copperman, Ashley Gorley, Shane McAnally)
To stay up to date on the latest country music news, please register to receive our newsletter here.
Media contact
Zoe Hodges,
Editor, Maverick Magazine
Tel: +44 (0) 1622 823920
Email: editor@maverick-country.com