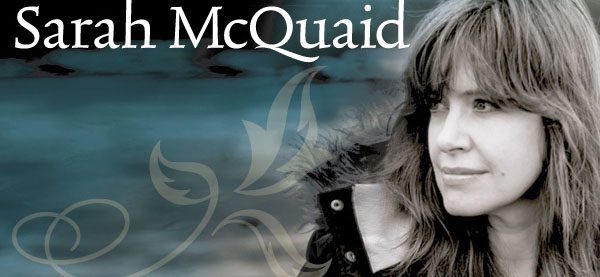 Sarah McQuaid announces April-May 2016 UK tour
20 April 2016 Tour News
---
Hard on the heels of a Netherlands and Germany tour that proved somewhat more adventurous than she'd have liked, Sarah McQuaid sets out across the UK to play 21 concerts in four weeks during the months of April and May 2016 – see details of dates below.
"Apart from being rushed to hospital with a blindingly painful ear infection in the small hours of the morning and having to cancel that night's gig, then two days later getting locked in the toilets shortly before I was due on stage – oh, and staying in a succession of some of the most dismal hotels we've ever experienced – apart from all that, it was a great tour," the Madrid-born, Chicago-raised, Penzance-based singer/songwriter/guitarist chuckles.
Not that the road is anything new to her. Recently featured in the Legends Of Rock exhibition by photographer Phil Nicholls alongside his iconic images of Amy Winehouse, Björk, The Prodigy and Courtney Love, to name a few, McQuaid has spent the past few years touring extensively on both sides of the Atlantic, earning critical accolades along the way.
Of one of her USA concerts last autumn, The Huffington Post wrote: "Finding treasure feels great, and such is the case with musician Sarah McQuaid. … I've attended hundreds of concerts of all kinds, and her subtle mastery onstage launches her straight into my fave shows ever. One voice, one guitar, and the wondrous reminder of the magic of music. Sarah has the gift."
Her April-May outing will be her penultimate UK tour before she takes a twelve-month break from the road in 2017 to focus her energies on writing and recording a fifth solo album, as well as penning a sequel to The Irish DADGAD Guitar Book, the popular tutor she authored on the alternative guitar tuning she uses exclusively.
"I'd like to do a follow-up book that focuses on song accompaniment and that demonstrates the versatility of DADGAD," Sarah explains. "A lot of people think of it as a specifically 'Celtic' tuning, but I write all my songs in DADGAD, and it's also great for all sorts of different genres, from blues to classical music to rock 'n' roll.
"And I've already started writing songs for the next album," she continues. "I was really happy with the production on the last one – my cousin Adam Pierce co-produced it with Jeremy Backofen, and it was recorded in their studio in upstate New York – so I'm hoping to travel over there in 2017 to do the next one with the same team."
Released in 2015, Sarah's fourth solo album Walking Into White was selected as Album of the Month by FolkWords, which went on to nominate it for both Best Album from a Female Artist and Album of the Year. Germany's Folker hailed it as "Ein mutiges Album mit einem potenziellen Pophit" ("A courageous album that includes a potential pop hit"), while The Musician called it "A work that grows with each listen."
"The songs are acutely observed and literate, almost like journal notes set to music. They're measured and tranquil but they're never dull because there is always a sense of restlessness and unease behind the poetry…. And it's all lovely," wrote Ian Pickles in R2/Rock 'n' Reel.
Before she can get down to work on its successor, she's got a busy spring, summer and autumn to get through, with the aforementioned four-week tour followed by summer festival appearances in Belgium, the Netherlands and the UK as well as a two-day DADGAD workshop at the Halsway Manor Acoustic Guitar Weekend in July. In September and October, she'll be undertaking a seven-week coast-to-coast tour in the USA, then doing a month-long UK tour in November.
"And after that, I'm looking forward to having a good long break from living out of a suitcase!" says Sarah. "I'll still do local gigs, and I'll also do festivals that only take me away from home for a couple of days at a time – there are a number of UK festivals that I haven't been able to get to because I'm always away on tour in other countries when they're happening, so it'll be great to be actually available for those … If they'll have me, that is!"
Apr 14 Penzance: The Acorn Penzance
Apr 15 Bodmin Folk Club
Apr 16 Exeter: Twigg's Gigs – Hope Hall
Apr 17 Great Torrington: The Plough Arts Centre
Apr 22 Walkington: Beverley Folk Club
Apr 23 Chester: Tarvin Community Centre
Apr 24 Hope Valley: Folk, Blues & Beyond
Apr 28 Rothbury Roots
Apr 29 Horsley (Newcastle): The Hearth Arts Centre
Apr 30 Whorlton (Barnard Castle): The Little Theatre on the Green
May 1 Benmore (Dunoon): Uig Hall
May 2 Cullipool (Luing): Atlantic Islands Centre
May 3 Acharacle: Resipole Studios
May 4 Acharacle: Resipole Studios (DADGAD Guitar Workshop)
May 6 Kenilworth: The Tree House Bookshop
May 7 Warminster: Deverills Performing Arts
May 10 Glasgow: Live At The Star
May 11 Edinburgh House Concert
May 12 Portree (Skye): Aros
May 13 Stonehaven Folk Club
May 14 Gartly: Tin Hut Sessions
May 15 Ardross Community Hall
---