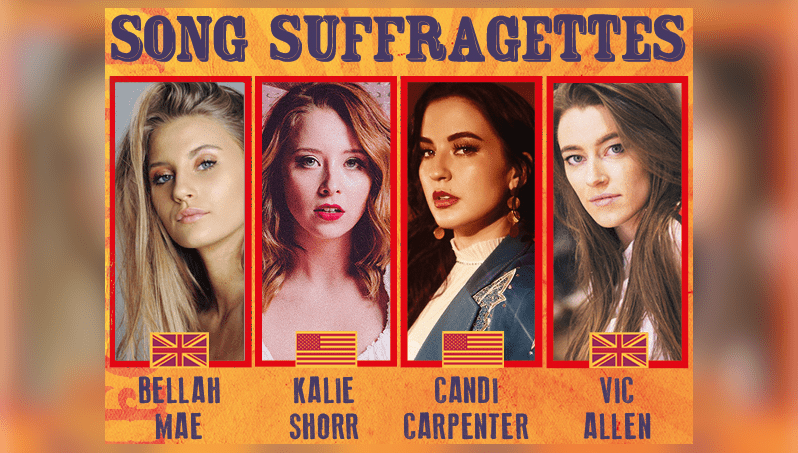 All female songwriters round from Nashville, Song Suffragettes, to head to UK in late April
5 February 2020 Featured news Tour News
---
For the first time ever in the UK, the Nashville all female songwriter collective Song Suffragettes will be touring, with it due to commence in late April. Tickets will be available on Feb 7 here.
Over the last five years, the collective has grown tenfold and has done wonders to combat the gender issues that occur with alarming regularity in America, with over 250 females appearing with the project – 16 of which have gone on to sign record deals.
On this instance, Song Suffragettes will be made up of American artists Kalie Shorr and Candi Carpenter, alongside UK acts Vic Allen and Bellah Mae. In addition, there will be a local female singer-songwriter announced for each night.
For those unaware, Schorr is tipped for huge things in the genre and was listed as a CMT Next Women of Country in 2018, performing at the Grand Ole Opry on 17 different occasions.
Carpenter meanwhile has been grafting in Nashville for 20 years, but has very much established herself on the scene now – even appearing on an NBC Dolly Parton: 50 Years at the Grand Ole Opry special, while working closely with Brandi Carlile.
As for the UK acts, Vic Allen is very much on the rise and has seen her work chart in the too five on the iTunes UK Country Chart in addition to receiving BBC Radio 2 airplay, while Bellah Mae is still just 18, but has seen her work picked up by celebrity gossip magazines for their video output.
Song Suffragettes will be playing:
April 26 – Oran Mor, Glasgow, Scotland
April 27 – Glee Club, Nottingham, England
April 28 – Glee Club, Birmingham, England
April 29 – Band on the Wall, Manchester, England
April 30 – Bush Hall, London, England
---