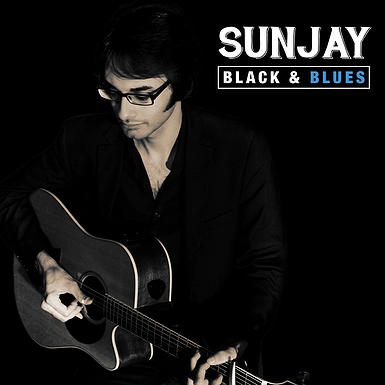 Sunjay – BLACK & BLUES
29 January 2016 CD Reviews
---
 New Mountain Music
(2 / 5)
Terrific pickin' and cool blues from a new young pretender.
 It's always difficult to review an album of covers because there's always an almost unavoidable tendency to compare what you hear to the originals and it doesn't always end well. I've always believed that if an artist is going to cover anything that's well known they should bring something new to it. Think about what Hendrix and Joe Cocker brought to their sensational performances of their famous covers of songs by Dylan and The Beatles, they're so great that I don't even need to name them (do l?). So, what we have here is ten songs from the bottomless well of the blues delivered by a young gunslinger who clearly has the requisite enthusiasm even if he doesn't (yet) quite have the grit in his otherwise excellent voice. Sunjay is a fine player and a pleasant enough vocalist but I'm not convinced that he has the maturity to inject these songs about death, gambling, drinking and hard times with enough darkness to convince me. The songs themselves are undoubted classics and he certainly has an eye for a classy blues tune so we get the likes of Delia, St James' Infirmary, Nobody Wants to Know You When Your Down and Out and One Bourbon, One Scotch and One Beer alongside less well known but equally fine tunes such as Duncan & Brady (covered with style by Bob Dylan sometime ago), Drop Down Mama and Pallet On the Floor.  
One thing that's perfectly clear though is that Sunjay is an excellent musician and his tremendous playing is perhaps the best part of this album. Check out the chopping chords in the opening track alongside his take on John Lee Hooker's One Bourbon. Given enough time, some more original songs and, perhaps, a band Sunjay might give us a more dynamic and interesting take on the wonder of the blues.
Greg Johnson
---