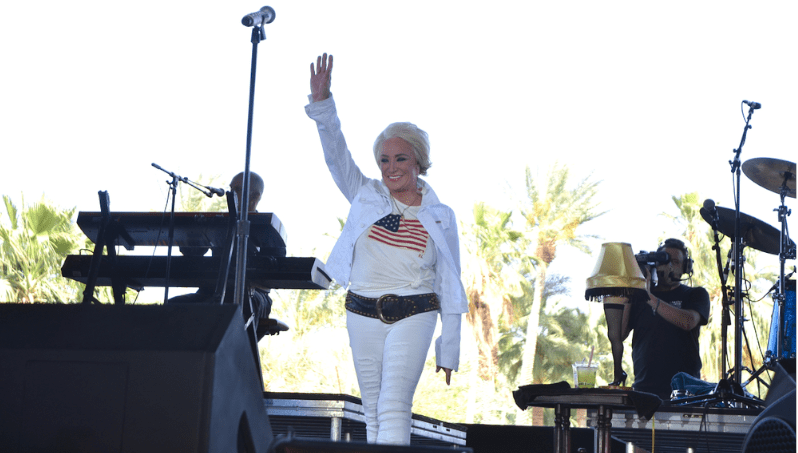 Tanya Tucker to return after 17 year absence with new album
---
Country music icon Tanya Tucker has announced that she will be releasing a new album on August 23 in the shape of 'While I'm Livin". The album can be pre-ordered here.
The album – which represents Tucker's 25th studio album in her illustrious career – has been produced by Brandi Carlile and Shooter Jennings and will be Tucker's first since 'Tanya' was released back in 2002.
Speaking about working with Carlile and Jennings, Tucker heaped praise on how talented Carlile is and said that her it was Jennings who brought them all together to allow it all to happen.
"Brandi is truly out of this world. She's talented, smart, funny, never ever slows down and has a heart of gold," Tucker said. "I just love her. She was like my shadow when we were in the studio. Every time I turned around, she was there. And Shooter, I've known him since he was a baby. He's the one who brought us all together. So I'm ready to get this music out there because it's different than anything I've ever done."
The tracklist for 'While I'm Livin' is:
1) Mustang Ridge – (Brandi Carlile, Tim Hanseroth, Phil Hanseroth)
2) The Wheels of Laredo – (Carlile, T Hanseroth, P Hanseroth)
3) I Don't Owe You Anything (Carlile, T Hanseroth, P Hanseroth)
4) The Day My Heart Goes Still (Carlile, T Hanseroth, P Hanseroth)
5) High Ridin' Heroes – (David Lynn Jones)
6) The House That Built Me – (Tom Douglas and Allen Shamblin)
7) Hard Luck – (John C. 'Pete' Bailey, David Lee Mitchell, Raymond L. Turner, Jerry Ontiberoz)
8) Rich – (Carlile, T Hanseroth, P Hanseroth)
9) Seminole Wind Calling – (Carlile, T Hanseroth, P Hanseroth)
10) Bring My Flowers Now – (Tanya Tucker, Carlile, T Hanseroth, P Hanseroth)
---