The Shires, the UK's most celebrated country duo, are back with another barnstorming album, 'My Universe', as Helen Jerome reports.
The Shires' back story feels like a classic tale of meteoric rise and astounding success out of nowhere, conquering the UK charts and Nashville. But their real history is one of years of toiling individually as wedding and pub circuit singers, studying, selling mobile phones, almost quitting altogether, and then magically hooking up on Facebook to form the perfect country music duo.
Crissie Rhodes lives in Bedfordshire and Ben Earle was based in Hertfordshire when they met – hence the name The Shires – and they were only about half an hour's drive from each other. Ben's moved even closer to Crissie now, so when they need to rehearse they're just around the corner from each other.
Although they went straight into the UK Top 10 with their debut album, Brave, Crissie says they actually get recognised more in Nashville, four thousand miles away, than they do back home.
Big Step Forward
Meeting them one month before the release of My Universe, their second album, the most striking thing is how well they get on, finishing each other's sentences, complimenting and complementing each other, and both still giddy with their success.
They know they've made a big step forward from their debut, which was "very much Lady Antebellum, Civil Wars", towards a newer country sound. They've pushed on. Even on the first album's cover, Ben feels they look like kids. "Confidence is the biggest difference now, especially going into the studio."
2016 has been remarkable in other ways too, as Ben became a father on the same day The Shires headlined Glastonbury's acoustic stage. "It was the most surreal day anyway," he says. "And it took a long time, 36 hours from the first contractions. Then, when [my son] River came out… I mean, we've had some pretty euphoric moments, played some huge stages, but this is completely different. It's impossible to put into words. He was a week late, and it had to be at 1.30 in the morning of the day we were headlining at Glastonbury! I had to drive down myself and I was knackered. I will never ever forget that day, ever."
But still neither of them really feels they've 'made it'. "I don't think we'll ever feel like we have," says Ben. "Brave did better than we'd hoped, but I want us to be in the charts in US Country, in Germany, Australia.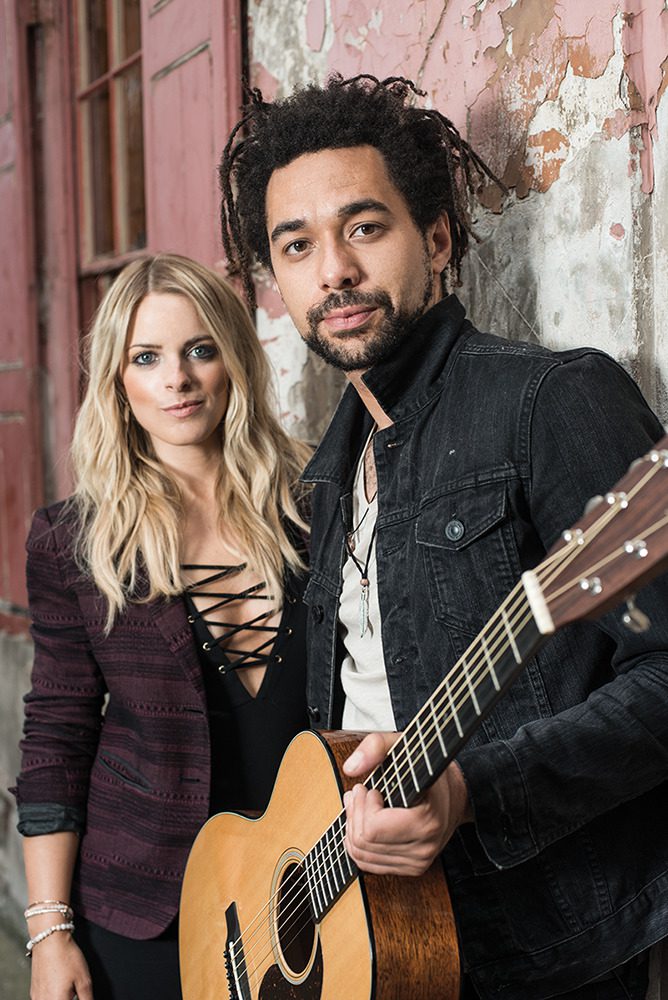 We want to keep making better and better music." Crissie's just pleased that they no longer get laughed at for being into country music. "People understand it more," she says. "The perception has changed and now we don't have to be ashamed, and that's been a big stepping stone. A lot of people have taken to us; it's opened their world to country, the sound of the music, so many genres are crossing in with country. And there's lyrical content people can relate to; not so much rhinestones and cowboys!"
Choosing the new album's title saw them almost opt for another track, Common Language. But, as Ben says: "My Universe seemed to sum up everything. For us it's about, 'What is your universe?', 'What is my universe to you?'. And that changes over time. I definitely thought that with River being born. And country music was our universe as well. So that title felt right." For the cover of the album, Crissie, "the visual one", was thrilled that their new creative director achieved her vision of being on railroad tracks, and a deserty kind of look. "I absolutely loved that."
Nashville
Writing and recording this second album in Nashville, was, says Ben, like walking into a memory. They used the exact same band, same producers minus one, same engineers, same studio, same everything, as on Brave. There's just one different player, Dave LaBruyere, on bass, with whom Crissie connected straight away. "We were all yoga and holistic things, and went off in our own little world!"
Writing meant a three-week trip to Nashville in March, working pretty much every day. Ben loves sitting in a room with fellow writers, evolving a song from a title or lyric. "That's what I find really inspirational," he says, "that's where we enjoy ourselves most. You get into this zone. It's amazing what they do out there. The way they keep coming up with new stuff."
Auditioning co-writers is sort of like speed dating, according to Crissie. "We set up a lot of the writes with a Nashville songwriter called Jeff Cohen. You go into the room and bring what you've got, feelings wise, to the table and start writing on that. They're there to enhance and work with you."
Drinking Fireballs
Inspiration can appear at the strangest times and, for Ben, it came after a heavily-delayed flight and a heavy night of drinking fireballs – whiskey with cinnamon: "Literally the most drunk I've ever been.
But I do believe there's something about when you're hungover, you're a bit more honed in creatively." Ben's other major strength is working out how the album will flow. Everyone, including producers and A&R folk, emailed their opinions on contenders and also-rans for the album.
Meanwhile, out of 35 tracks, Ben came up with the entire running order straight away. He realises that with streaming and downloads the order isn't as important to people now, but it is for him. And with the album being released on vinyl, he's going to have to go out and buy a record player!
The Shires – Their Fave Country Artists
Ben "Lady Antebellum, and Eric Paslay – I love his songwriting, which is that next level."
Crissie "Leann Rimes – growing up through the 90s and early 00s, I turned to her for every vocal I was learning. Plus Faith Hill, Martina McBride and Alison Krauss… Those were my leading ladies."
Personal and Heartfelt
Right at the heart of the new album is a song pairing that happened purely by chance, and is about as personal and heartfelt as you could imagine. Crissie was writing with a trio of songwriters and Ben was working alone. And both were composing songs about their fathers – Crissie's father very present through her life, and now deceased; Ben's father very absent during his childhood, but still around.
Crissie wrote Daddy's Little Girl with three people whose fathers were still alive, but she didn't mention that her dad had passed away. "It's such a touchy subject with me, and I found a way to make the song work so it could be about a dad that's still alive or one that's passed on.
That's the beauty of that song. I've even had some dads come up to me, saying, honestly, they were just about in tears, and had to hold it back, because they were thinking of their own daughters. Strangely, at the same time, Ben had written his dad song. Neither of us knew the other had written these songs; the reveal happened in Nashville."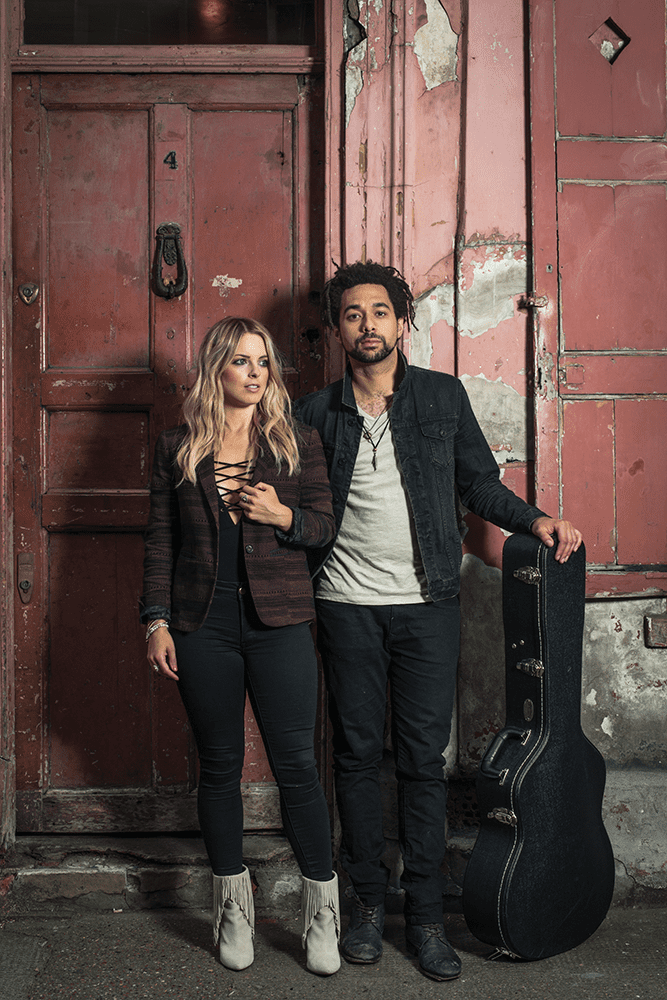 Ben says Everything You Never Gave is the most honest song he's ever written. "It's something I've always wanted to do, but when I found out I was going to be a dad, I thought about all the things that I want to give to my child.
At the time, we were convinced we were having a girl; then we had a boy, but I felt like I shouldn't change it. It was difficult to write and I haven't discussed it with my dad, to be honest, but it was important to write.
I think one of the things you're always trying to do as a songwriter is to write something that's really personal, really specific; and, almost by definition, that then becomes universal, because if you felt it then someone else must have felt it."
They recorded it just before midnight, with the lights down and the candles on, though Ben doesn't want to make it sound like a hard job. "We're not miners down the mines, but actually baring your soul like that is pretty painful, especially for Crissie talking about her dad." Singing Daddy's Little Girl live on stage was very emotional for her. "I couldn't look at anybody in the audience; my mum and my sister were there and I knew it was going to be difficult to perform. But we got through it."
Common Language
The Shires mix it up on the tracks Common Language and Naked by including a string quartet on both, involving their violinist friend, Kerenza Peacock, who also plays with Adele. Ben used to play fiddle as a kid and loves strings, and he feels they bring songs such as Common Language to life: "It put the polish on those songs and makes them stand out." For Crissie, Common Language isn't really even country: "It's more classic pop, more James Taylor, that kind of hypnotic vibe." Ben is finally happy that, with Naked, they've achieved his ambition to write a big 90s/00s ballad, like those by Leann Rimes or Faith Hill.
Then there are the raucous, drum-driven tracks, Beats To Your Rhythm and Not Even Drunk Right Now, both written with their drummer chum, Dan McDougall. They aren't showcases for the vocals, they're all about fun – in contrast with the remarkable closing song, Desperate, which has basically no production and is completely stripped back. As Crissie says: "That's a great way to end, because that's what it's about for us." Ben wasn't at all sure about Desperate when he wrote it, but when Crissie started singing it he changed his mind. "I couldn't stop singing it.
Every time I was walking about I'd be singing that song. I felt really strongly that it needed to go on the album and I wanted us to do a version of it. We'd run out of time with the musicians, so we just recorded it with piano and vocals, which is how we first started. And that song gets me every time."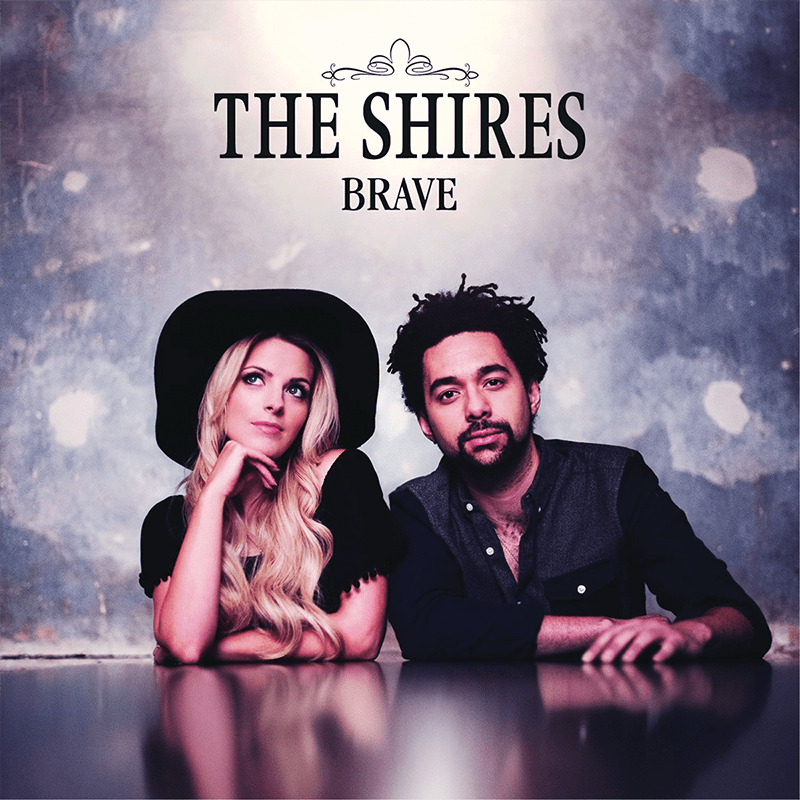 It was the same with the album's title track. Ben didn't think it was particularly good, and then, when Crissie sang it, "It came to life," says Ben, "because I honestly believe that Crissie is a better singer. When she started singing it was like, this is going to be the biggest hit on the album!"
Having played bigger shows, they've suddenly found their ambition has changed hugely. They want bigger songs and a bigger sound, which is the aim on My Universe. "The verse is quiet, and the lyric is almost cheesy, when you say it out loud," he explains. "It's like amateur Shakespeare, but sometimes that's the best way to say it. It's how I feel, especially with River being born.
It is a love song, and the best love songs can be about someone, they can be almost religious, or about platonic love, or unconditional love for a baby. I really believe that for the rest of my life he will be my universe".
Bruce Springsteen
Talking of bigger sounds, it's Bruce Springsteen who comes to mind on their song Drive, and it turns out that they wrote it with Kip Moore, who happens to be a massive fan of The Boss. On Save Me, their co-writer was Brian White, who is also a preacher who does a lot of Christian music. It's a clever song with a twist that came after The Shires had listened to loads of Chris Stapleton, and this blues song just rolled on out in their first session.
The honesty of the verse still hits Ben every time he hears it. "It's that fight that you have with yourself every single day when you get up and you look in the mirror," says Crissie. "But you're fighting with yourself about something that doesn't really matter."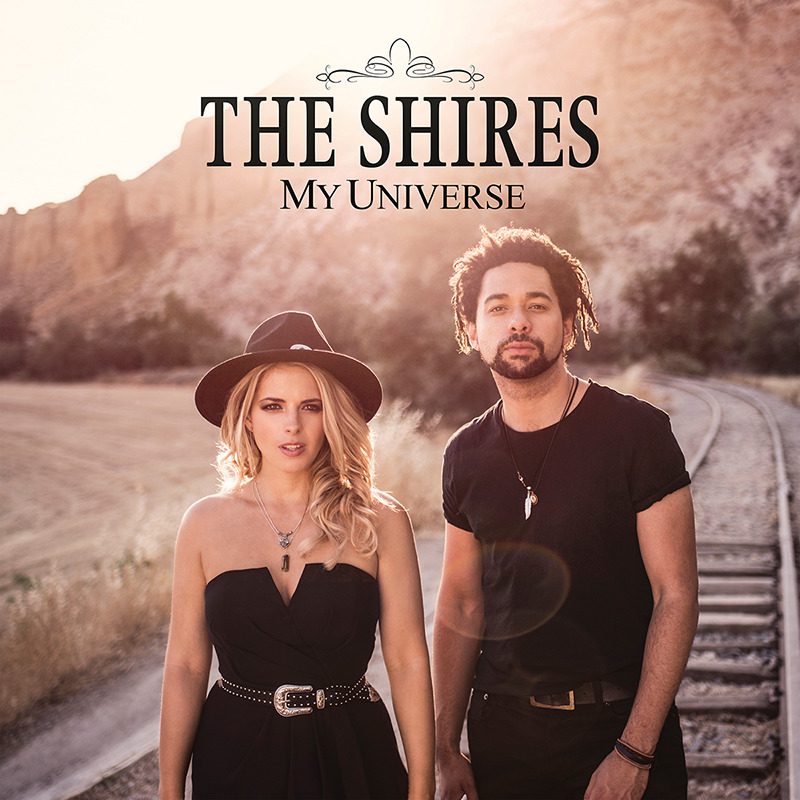 However, Crissie really wasn't convinced when she saw the lyrics of A Thousand Hallelujahs: "Straight away, I said there were too many religious words. Then the production of it changed my mind, and it became an absolute tune for me." And, of course, she sees similar references in songs like H.O.L.Y. by Florida Georgia Line and Take Me To Church by Hozier.
One song that everyone will identify with is Other People's Things, about when items put in drawers or stuffed away bring back memories of people, places and things. Crissie has a good few boxes at home, with newspaper cuttings from when she first started, every talent show she was in, even teddy bears. And they've both kept pretty much every pass from pretty much every show. "You remember each show instantly then, it all floods back," she says. "And that song paints so many pictures for me."
The Shires – Top 5 Facts
1: Ben was a head chorister at St George's, Windsor, where he once sang for the Queen.
2: Ben wanted to marry Charlotte Church when he was 11, as she was also a chorister, and the pin-up on his wall!
3: The Shires found their manager through a guy they met at a tiny cider festival in the Greyhound pub in Haynes, Bedfordshire.
4: Crissie shared a bedroom with her sister, and their pin-ups were the Backstreet Boys, NSYNC, Hanson, and Britney Spears.
5 Scottish co-writer Nina Nesbitt started collaborating with The Shires after approaching them on Twitter.
Fame and Fans
The Shires are only now coming to terms with their fame and fans. Ben says that when their success started he even felt a bit guilty, just going up on stage and doing what he loved. He had to sit down and think about it: to make sense of what they were doing and whether it was selfish.
Then something happened. "The messages started coming in on Facebook, people saying they had their first dance to Brave, or that it got them through heart surgery, and they played it in recovery," Crissie adds, "And another girl came out to Brave as lesbian. She said it gave her that strength to announce to her friends and family that that's who she was, and now she could get on with her life."
"So you have to remember not to change anything," says Ben, "because Brave wasn't written for someone to come out to, it was about how I've been in this dark place, but it gets better…"
So what's the secret of The Shires, and how have they gelled and grown together so quickly and easily? Crissie says they both bring different strengths to the table: "It just kind of works, doesn't it?" And Ben says it's really nice to share all this with someone: "I feel sorry for solo artists when they come off stage, whether it's a good or bad gig. Whereas when we come off stage you look at each other and go, 'That was great'." "Or 'that wasn't that great!'" quips Crissie.
"It's funny to think that in another life we would never have been friends," says Ben. "We get on really well. Although, apart from musically, we have nothing in common. But music is everything to us."