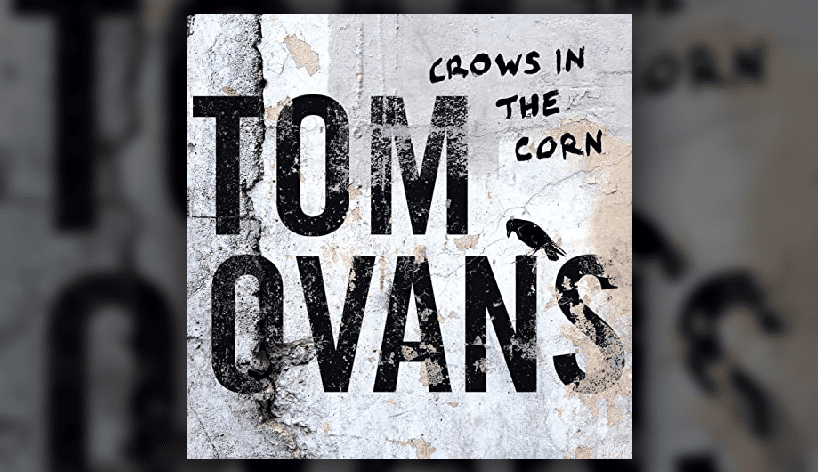 Tom Ovans new album 'Crows In The Corn' – Available Now!
---
The long awaited 14th release by Texas-based artist Tom Ovans, Crows In The Corn, is now available digitally on all major platforms via Orchard Distribution. In tandem, all 13 of Ovans' previous albums have been re-released and are available online.
The 11 songs on Crows In The Corn, continue Ovans' string of gritty, bare-bones recordings. Recorded analog to a 4 track, the songs and performances are left alone to stand on their own.  The album kicks off with the dirt-road blues of "Going Back Home" and ends with a haunted tender version of one of Ovans' most well-known songs, "Avenue of the Americas" (6th Avenue). The new recording captures the song as it was originally written. 'The first time I recorded it I was just in a different place musically, so I changed it up a bit. I always knew I had to get back to it, back to the way the song came to me,' says Tom.
The second song on the album "Spaghetti Blues" may seem funny on the surface, but there's a dark undertone about the struggles of an artist sticking to his guns. "Her" is some kind of ballad, an all-nighter that wanders through a dark city. Fourth track "Rolling and Rambling" seems to be about two exes sparring with each other while the carnival of life spins on around them.
The title track "Crows in the Corn" is just Ovans and his guitar, but the vision is cinematic. A tale of two lovers lost to each other, once defiant yet now mostly broken. "Apocalyptic Dawn" is a surreal crazed tale of surviving faithless love in an upside-down world. The area around Reelfoot Lake in northwest Tennessee is called "Land Of The Shakes". The lake was created by the New Madrid earthquakes of 1811-12. In a powerful country song Ovans' uses the title as metaphor to take us on a journey through the bear hunting days of Davy Crockett, to the pollution and degradation of the land, through the gospel of Elvis, and finally to the struggles of today's forgotten working class.
The slow-burning "Hard Road Mama" hits the road, the walls of reality, takes no prisoners and asks for no pity. "On A Greyhound" is just one of those songs that makes you get quiet and listen. Finally "The Mighty Sea" recalls the epic folk ballads of long ago telling the tale of a doomed love.
Listen to "On a Greyhound" here:
"Ovans's world all is loaded, sometimes you don't even know with what exactly, but time suspends and the moment freezes, freighted with glower, leavened only by that lonesome shiver and spark. A sense of thrill and chill in equal measure. His singing seems in part, at least to me, to have shifted intriguingly a notch. All else is bang on the same. From Bleecker to Texas to muddy shore of mighty sea. Gaunt songs of errant haunt that still the soul and echo soft through the midnight hour. Uncomfortable but necessary."
---