Country crossover sensation Jessica Lynn releases a brand-new lyric video for her latest hit single 'Getaway Car'.
Listen to the track and you'll find Jessica's voice full of enthusiasm and joie de vivre, and the song full of infectious exhilaration. Starting with a well-baited, tasty guitar hook and harmonious vocals, 'Getaway Car' brims with positive energy, playing on the free-roaming driving experience that so infuses American dreams and culture. It's imagery that feels even more vivid and liberating in these grey, locked-down months in the UK!
So how does the lyric video give that visual form? "Getaway Car is such a feel-good song that it required a fun, fast, and colourful video," said Lynn, "As we are in the middle of cold winter here in New York, I didn't feel that shooting a traditional music video would suit the track!  Instead, for now, we can take a fast-paced, virtual ride through love."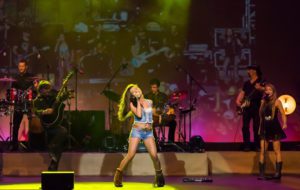 Check out the Lyric video for Getaway Car here https://youtu.be/be6LB9llyG4
As a single, 'Getaway Car' has already been earning airplay and acclaim. BCMA British Country Music Association awarded Jessica Country Release Friday artist with Modern Age Music as Single Of The Week and added it to their Best New Country Spotify playlist. The single recently charted on iTunes #2 in Belgium.
In other news, Jessica has been gracing the January/February cover of Maverick — the biggest international country music magazine — and is the subject of a feature interview inside, focusing on 'Getaway Car' and her forthcoming 'Lone Rider' album.
Jessica is also up for Belles & Gals' UK Country Music Spotlight Awards, nominated in the category, of Best International Artist of the Year (sponsored by Voice of a Woman). What's more, Jessica herself will also be performing in the headline slot at the International Awards Special tonight Friday, 19 February – 7pm GMT. The event will be streamed via Twitter, YouTube and Facebook.
Check out the lyric video for Jessica Lynn's 'Getaway Car' and see her website and social media for further news about her forthcoming album, and her website for pre-ordering it.
'Getaway Car' is  available to download & Stream from all digital platforms.
Single Smart Link: https://snd.click/getawaycar